Congratulations to all the counties and project staff for producing some amazing examples of public works. It was challenging for the Jury to narrow the selection down to three, one for each category. Here are the winners of the County Projects of the Year.
Awards Program Criteria
Seven criteria are used to evaluate projects submitted for consideration. They included: Community/Employee Value Enhancement, Cost Saving Measures, Aesthetics, Sustainability, Innovation, Funding Methods and Public/Private Partnerships. The Submission Categories are; Large County, Medium County and Small County projects. The Awards were given in three areas: Projects of the Year; Grand Award and People's Choice Award. This year the Awards Committee gave the Jury an option to bestow the Jury's Award for a project among those submitted that stood out.
Previous Year Award Winners
With the 3rd year of the awards program underway, we want to keep everyone informed about prior year recipients, read below for more detail on these existing projects and the awardees.
For 2014 Winners…click here.
click to read: San Diego 2015 Nomination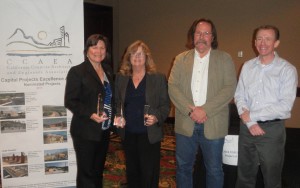 San Diego County Project Team with Rob Unholz, President of CCAEA and 2015 Jury Foreperson, Andrew Bohnert with presentation of the Project of the Year, Grand Honor and People's Choice Awards.
This project has so many components, where to begin: reuse of older buildings, pedestrian gardens, recycled water, children's water park, enhanced underground parking—all of this while in a extreme drought. Not only is the project aesthetically pleasing it is a great recreational asset to its community. Bravo San Diego!
click to read: Solano County 2015 Nomination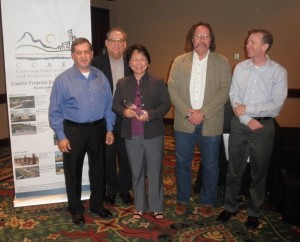 Solano County Project Team with Rob Unholz, President of CCAEA and 2015 Jury Foreperson, Andrew Bohnert with presentation of the Medium County Project of the Year Award.
The amazing draw of this project is that it looks more like a school or library; not a state-of-the-art correctional facility. It just goes to show that excellent design is not restricted to the more friendly buildings in the community. Bravo to the project team for a home run on this project!
click to read: San Bernardino County 2015 Nomination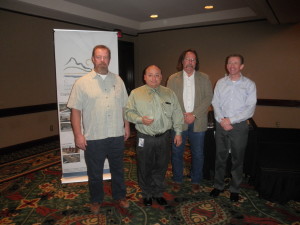 San Bernardino County Project Team with Rob Unholz, President of CCAEA and 2015 Jury Foreperson, Andrew Bohnert with presentation of the Jury's Awards.
This project is inspiring and refreshing in its creative use of what would otherwise be a rather routine engineering solution. It provides the needed protection of overflow water management and an aesthetic recreational space for the community—it seems much more like a park than a flood control project. Great job!
The Grand Award is granted by the Jury based upon their assessment of the project among all submitted that exceeds the requirements and best demonstrates the spirit of the Awards Program. The People's Choice Award is granted from the highest votes received during the CGSA/CCAEA Conference Attendees.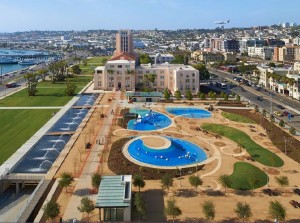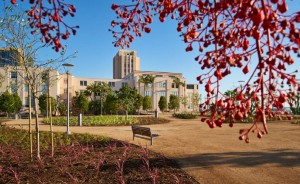 All projects are acknowledged with a Certificate of Merit for their participation in the program. CCAEA appreciates the effort in creating each submission and the ongoing work of the public-sector capital project teams around the State.
* Kern County: Fire Station 58 and Leroy Jackson Park. Geoffrey Hill, Division Director.
* Ventura County: Piru Skate Park. Chris Cooper, Project Manager.
* Santa Barbara County: Emergency Operations Center. Celeste Manolas, Project Manager.
* San Luis County: Cambria Library Expansion. Creed Bruce, Project Manager.
* Butte County: Oroville Veterans Memorial Building Park and Ride", Jennifer Wilson, Project Manager; and North Public Works Building, Thomas (TJ) Cowles, Project Manager.
Unfortunately there were no submissions from California Small Counties this year. We highly encourage the small counties to submit next year and will work with any small county that feels challenged in that effort. If you need help please contact: awards(at)ccaea(dot)org.